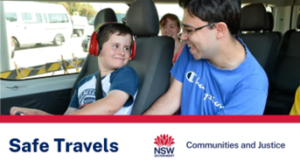 DCJ is thrilled to introduce you to our brand new Safe Travels website, designed to equip caseworkers and carers with essential knowledge for safe transportation of children and young people – and themselves.
Dive into our online hub and discover a treasure trove of resources tailored to enhance safe travel. Our e-Learning module, a collaborative effort by DCJ and NSW Transport, covers vital topics such as:
Assessing, identifying, and minimizing risks
Road safety guidelines including; crossing roads safely, driveway safety, child restraints, and
more
Our resources also include:
Child restraints for children with disabilities
Policy: Transporting a child or client
Factors to think about for a Transport Risk Assessment
Link to – Mobility and accessibility info for children in Australia
Link to – Kids and Traffic, and much more
Our goal – To empower caseworkers and carers with the knowledge and tools they need to navigate the transportation landscape safely and efficiently.
Please share this information about our Safe Travels website which can be accessed by clicking on the link or scanning the QR Code.